The 2017 Mercedes-Benz SLC
2017 MERCEDES-BENZ SLC
NOW ARRIVED
Explore the All-New 2017 Mercedes-Benz SLC Roadster
If you've admired the exciting ride and refined touches of the Mercedes-Benz SLK, you'll love the all-new 2017 Mercedes-Benz SLC. Featuring two turbocharged engine options and an updated exterior, the SLC is a breath of fresh air for drivers. Customers are blown away by the speed and luxury of this beautiful roadster. The 2017 Mercedes-Benz SLC is now in inventory
new Mercedes-Benz vehicles
and Fremont and Newark drivers can take it for a spin at Fletcher Jones Motorcars of Fremont.
Commanding Performance
The new Mercedes-Benz SLC offers your choice of two turbocharged engines. Choose the standard 2.0L turbo four engine and enjoy 241 hp and 273 lb-ft of torque. Opt for the Mercedes-AMG® SLC 43 to enjoy a twin turbocharged 3.0L V6 and you'll have 262 hp and 384 lb-ft of torque at your disposal for an exhilarating ride. The V6 goes from 0 to 60 mph in just 4.6 seconds and with a top speed of 155 mph, you'll leave everyone in the dust. Both engines are paired with an ultra-smooth 9-speed automatic transmission.
Enjoy the Ride, Rain or Shine
When the California sun is calling your name, you can cruise with confidence in the 2017 Mercedes-Benz SLC. The retractable hardtop can be operated while the vehicle is in motion at speeds up to 25 mph. So when the weather takes a quick turn, you won't have to hope the light stays red a little longer to close the hardtop. If chilly temperatures are threatening your convertible cruising days, the class-exclusive AIRSCARF® neck-level heating system can surround you with warmed air. This innovative heater adjusts output in relation to your speed, so any day is perfect for a drive.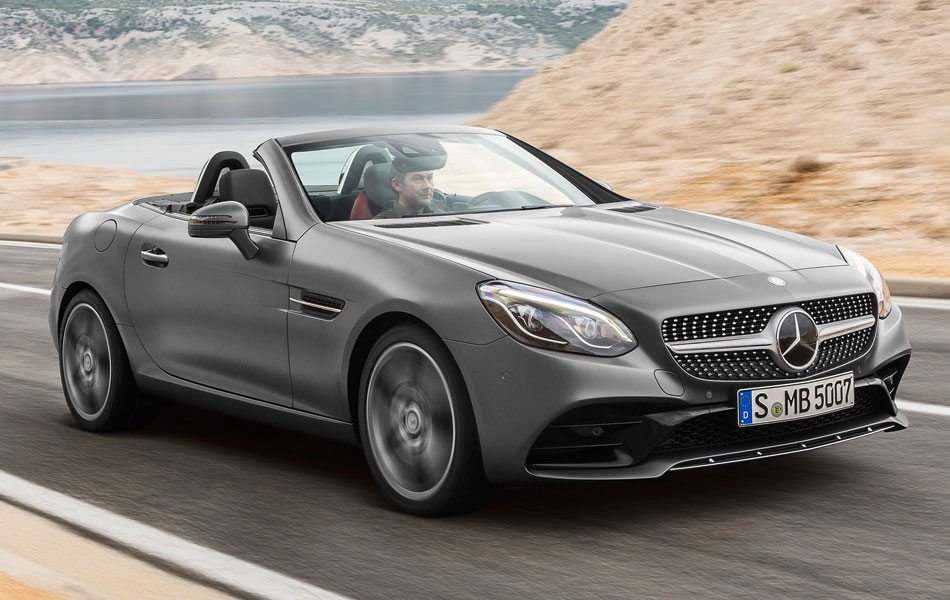 Sporty Suspension
The 2017 SLC delivers a smooth and controlled ride, whether you're enjoying a night on the town or racing up the coast. The chassis of the Mercedes-AMG® SLC 43 features a unique suspension tuning. The increased negative camber makes cornering smooth and stable. Also on the Mercedes-AMG® SLC 43, a mechanical limited-slip differential and adjustable damping are available for true track-ready performance.
Eye-Catching Exterior
The sleek and athletic design of the 2017 SLC hints at the power beneath the hood. Once you lay eyes on the bold exterior, you won't be able to look away. The prominent Mercedes-Benz diamond grille mesh is framed by newly designed available LED headlights. In the back, the redesigned taillights are slimmer and more aerodynamic than the previous 2016 Mercedes-Benz SLK.
Driver Assistive Systems
New driver assist systems are supported by the upgraded electronic architecture of the 2017 Mercedes-Benz SLC, actively working to keep you and your passenger safe at all times. Standard COLLISION PREVENTION ASSIST® monitors closing speeds using radar technology and helps you to apply an ideal level of braking when a collision is likely. This can reduce the severity of an impact or avoid a collision entirely. It's just one of the many active safety features available in the new 2017 Mercedes-Benz SLC.