What is Mercedes-Benz ATTENTION ASSIST®?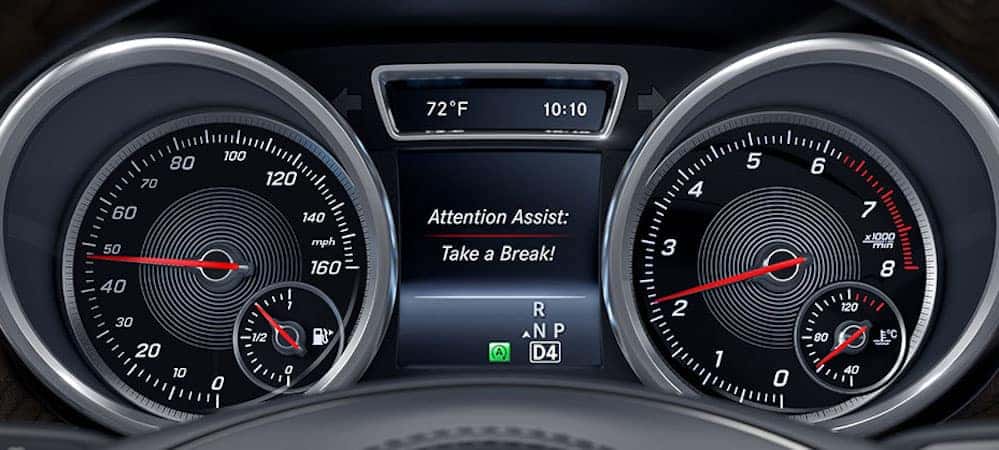 Mercedes-Benz vehicles have long been known for their safety features, including revolutionary ATTENTION ASSIST® technology. Whether you're setting out for a cross-country trip or heading home from a late night at the office in Milpitas, this feature provides an extra level of safety. Discover how the Mercedes-Benz ATTENTION ASSIST® "Take a Break" feature works below, then visit Fletcher Jones Motorcars of Fremont to learn more about this feature and other Mercedes-Benz technology.
How Does Mercedes-Benz ATTENTION ASSIST® Work?
An industry-first technology from Mercedes-Benz, the ATTENTION ASSIST® system keeps drivers protected from the dangers of driving drowsy. Pairing a precise algorithm with an innovative sensor, ATTENTION ASSIST® can tell if drivers are getting too drowsy to be on Union City roads. Here's a quick overview of how the system works:
Once you begin driving, the system assesses your normal driving style across over 70 parameters.
The system will then learn those behaviors and look for specific steering corrections which suggest you may be getting drowsy.
Going beyond your individual habits, the ATTENTION ASSIST® feature will also account for multiple external factors, including road conditions and crosswinds. Along with those factors, it will also consider how you're interacting with controls, buttons, and switches in the vehicle.
If, after assessing all the information, ATTENTION ASSIST® concludes that you're experiencing drowsiness or driver fatigue, it will deliver a visual and audio alert to signify it's time for you to take a break.
Mercedes-Benz Vehicles with ATTENTION ASSIST®
Along with a myriad of other safety features, such as Blind Spot Assist and Lane Keeping Assist, the ATTENTION ASSIST® feature is available on most new Mercedes-Benz models. If you're looking for the ATTENTION ASSIST® feature, you can choose from a variety of vehicles, including:
If you're interested in a Mercedes-Benz model that offers ATTENTION ASSIST®, explore our inventory of new, pre-owned, and Certified Pre-Owned Mercedes-Benz models. Or, if you have more questions about any of the Mercedes-Benz models listed, get in touch with us at Fletcher Jones Motorcars of Fremont.
Enjoy Peace of Mind With Mercedes-Benz
Along with safety features like ATTENTION ASSIST®, Mercedes-Benz continues to lead the way in technology with other features like PRESAFE®, BlueTEC® clean diesel, and KEYLESS GO® and KEYLESS START®. Experience the difference of a forward-thinking Mercedes-Benz at Fletcher Jones Motorcars of Fremont near San Jose and Newark.