Inside the Mercedes-Benz A-Class: MBUX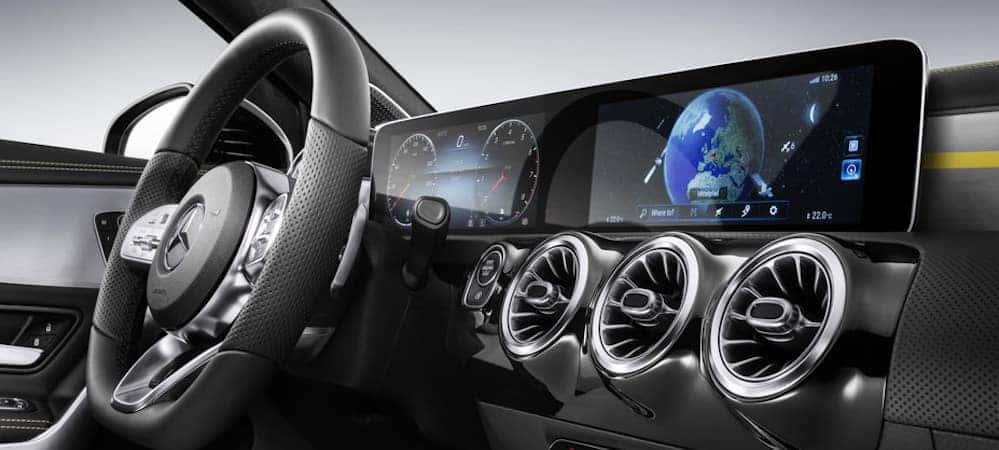 MBUX stands for "Mercedes-Benz User Experience" and is the new intelligent infotainment system for the luxury car brand. Introduced in early 2018, MBUX is included on the 2019 Mercedes-Benz A-Class. Learn more about the MBUX features and highlights below!
Intuitive Engineering
MBUX's interface is easy to use! For example, MBUX puts your frequently-used features, such as specific navigation routes or your favorite radio station, on the main menu. This makes those apps and features all the more readily accessible.
Responsive Voice-Powered Feature
Have a question you need answered, or looking to change comfort settings in your cabin? Turn on MBUX by saying, "Hey, Mercedes-Benz," or by pressing a button on your steering wheel. Mercedes-Benz User Experience can then respond to driver requests or questions. Also, there's no need to worry about how you phrase your question or request, as this feature can understand you when you speak in a conversational manner. For example, if you're feeling chilly, you can tell MBUX, "Hey, Mercedes-Benz, I'm cold," and MBUX will respond by turning up the temperature by a couple degrees.
MBUX is Programmed to Learn
MBUX can suggest new destinations, comfort settings, or music from learning your preferences over time, thanks to artificial intelligence. The system follows your profile to learn more about what you like. MBUX can even follow your profile when you aren't driving your vehicle; you simply need to be driving any Mercedes-Benz vehicle equipped with MBUX.
Learn More About MBUX at Fletcher Jones Motorcars of Fremont
If you want to learn more about MBUX or other Mercedes-Benz features, contact us today. You can also visit us at Fletcher Jones Motorcars of Fremont, located near San Jose, to browse our new Mercedes-Benz vehicles and test out all the latest cutting-edge Mercedes-Benz technology!