Learn More About Mercedes-AMG® GT 4-door Coupe Interior

The interior presents a symbiosis of performance and exclusivity and integrates an ultramodern, new type of operating system into the atmosphere of a Gran Turismo. The sculptural instrument panel forms an interesting contrast here to the large trim element with its flowing style, which merges into the driver's door in a wrap-around effect. Illuminated turbine-look air vents refine the high-quality impression and underline the sporty appearance.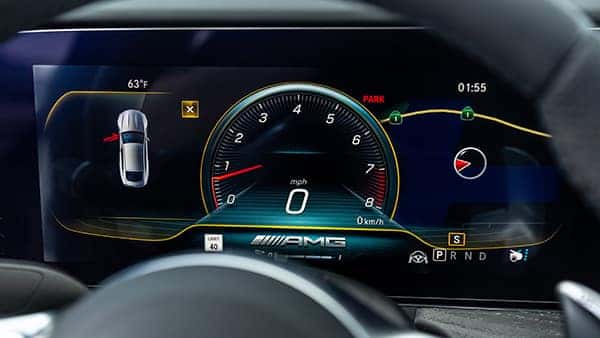 Widescreen Cockpit
Two high-resolution displays each measuring 12.3 inches dominate the Widescreen Cockpit, which is standard in the V8 and optional in the inline 6-cylinder version. Three different styles are available for selection for these all-digital displays: "Classic", "Sport" and the completely new "Supersport". Depending on the driving style or interior equipment, the different styles can be set at any time via the instrument cluster or the central display.
AMG® Performance Steering Wheels
The new AMG® performance steering wheel blends ideal ergonomics with maximum functionality. Various functions are combined in groups on the sporty-style wheel with a high-quality touch and feel and can be precisely and intuitively controlled via Touch Control Buttons in the steering wheel. The driver to controls the entire infotainment system using finger swipes, without having to take their hands off the steering wheel.
Innovative Centre Console
A new and unique feature comes in the form of the color display buttons, integrated into the distinctive and tailor-made trim element, for the integral display and control of the transmission logics, suspension, ESP®®, exhaust system, start/stop function and rear aerofoil. With their TFT technology the display buttons use colored, intuitively comprehensible symbols to show the function and are easy to operate with just a small tap of the finger.
Sportscar Seating Evolved
When it comes to the seats, too, Mercedes-AMG® proves that comfort and exclusivity need not conflict with a performance-oriented vehicle configuration. The driver's and front passenger seat can be configured in different scenarios ranging from the sporty & comfortable seat, a seat with elegant diamond quilting, & to an extremely contoured performance seat with an integral head restraint. The four-door AMG® GT also offers different seating configurations to meet all demands for the rear, too.